Gateway Students Support Special Olympics Athletes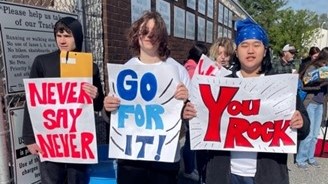 This year marked Carroll County's 50th year of Special Olympics.  Over 260 athletes participated in events such as short distance racing, standing and running long jump, softball throw, and wheelchair events.
Twelve students (a.k.a., volunteers/fans) attended the Special Olympics, which was held next door at the Westminster High School stadium.
We began the day by standing at the front gates cheering on all the athletes as they made their entrances.  Each of the twelve Gateway students were paired with a student-athlete from other schools, including Carroll Springs. They helped the athletes find their events at the designated times, cheered them on, and attended the medal ceremonies.
Everyone had a great time (even though it was a little chilly) and you could see that our students' patience and kindness really made a big impact on the young athletes.  There were a lot of bright smiles and happiness at this year's Spring Games.
Shout Out to Gateway's Volunteers/Fans of the Special Olympics athletes:
Ashton Alexander

Alec Baker

Molly Brough

Chase Swagger

Ryan Willman

Brandi Borgaard

Jeremy Conkling

Hailey Barnes

Devin Allen

Logan Reinholt

Haven Coughenour

Vincent Bach