Teachers are Awesome
Teacher Appreciation Week, May 8-12, was a time for students to appreciate our amazing teachers and all that they do for us, and Gateway and Crossroads have some of the best teachers you could ask for. 
Throughout Teacher Appreciation Week, SGA hand-delivered lovely gifts each morning to all the teachers. On Monday teachers were given Starbursts with a note that read, "We are bursting with appreciation for you." They were given s'mores on Tuesday with another note: "You're appreciated s'more than you know!" On Wednesday, SGA delivered donuts to teachers. On Thursday, teachers were presented with a plant, with a note that said, "Thank you for being a great teacher! You have helped our minds grow as big as we hope this plant does for you!" Friday was a laminated poster with quotes from students about how much they appreciate each teacher.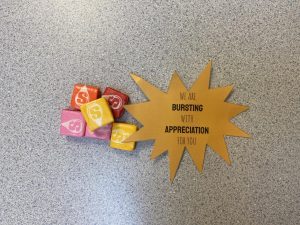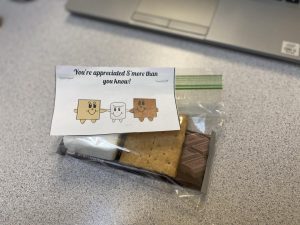 The teachers here are amazing and you can tell they love their jobs. Mrs. Murphy said that her favorite part of the job is "when I see that light bulb go off and a student realizes they get it." She added, "I definitely think that [teaching] is a calling. I don't think you can look at it as just a job. And when I come to work, when I come to school, this is my happy place. I love the staff I work with, and I love my students."
Everyone has a different reason why they love teaching, although many of the same sentiments are shared amongst staff. Mrs.  Mackie's favorite thing is supporting the kids and families, whereas Mrs. Stewart's favorite thing is the relationships she builds with her students. Ms. Brown, from Crossroads, likes the interactions she has with kids, similar to Ms. Pickett, who also loves making connections with students. Like Mrs. Murphy, she likes seeing the light bulb moments saying, "I just really like being here, hopefully making a positive impact on my students, and seeing them grow, and seeing them turn into young adults."
Others, while they love the interactions with the students also enjoy other aspects of teaching as well. Ms. Murchie's favorite part of her job is sharing her passion with students and working here at Gateway. Mrs. Flagg enjoys "watching young people meet their goals and succeed." Regardless of what teachers find enjoyable, the common theme is helping students meet their potential.
Our teachers here at Gateway and Crossroads work very hard and push their students to be the greatest people they can be. Thank you to our amazing teachers for doing everything that you do! Hopefully, Teacher Appreciation Week was all that you hoped it would be.