Gateway is the Best Thing That Has Ever Happened to Me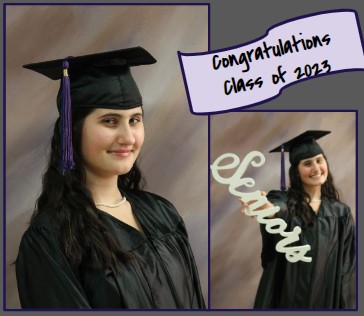 Good evening, for those of you who don't know me. My name is Grace von Riegen, and I have been attending Gateway since my freshman year, and it is one of the best things to ever happen to me. My home school was Liberty High School, and it took all of one day for me to discover that I could not learn there. When I was in the 7th grade, I developed an anxiety and depression disorder, and my world suddenly changed. I did not like to be in large groups of people; I stopped doing my homework; and I have never been good at making friends. After my first day of high school, I gave up, I sat and bed all day and did nothing. A few days later I got admitted to Carroll Hospital and from there I found Gateway. Gateway didn't change me, but it brought out the best in me. Slowly, throughout my 4 years there, I became a social butterfly and started to excel in all my classes. Any of my teachers would tell you that the girl on this stage right now is a drastically improved version of the one that first walked through Gateways doors almost 4 years ago.
Whenever I told people was graduating a common question I got asked was "Are you excited?" Whenever I was asked this question I would say no and laugh it off but I have been dreading this day. The closer it got the more the knot in my stomach grew and it wasn't because of nerves or excitement. It is because I don't want to leave behind the amazing experiences and relationships I made at Gateway.
Even though my experience was great, I still have regrets, well, one regret, my attendance. Anyone who knows me knows I struggled to get to school, especially in the morning. In some of the last days of my high school career, in the middle of my senior year, I realized how much I missed when I wasn't in school. Every day I was at Gateway is a happy memory, even if I go in with a bad mood, end up crying over a biology test, or, worst of all, have to go to English class.
Despite English being my least favorite subject to learn, the absolute best memories I have were in Ms. Pickett's' classroom. Pickett and I have a long history, she taught me English 9 when I first arrived at Gateway when I barely spoke and had that terrible haircut, how much has changed. She then taught me public speaking sophomore year and during that time I started to become more outgoing. Then junior year came and I was growing up and maturing, how did I know? Because I actually started to care about my grades, something I wish I had done sooner. Even though I wasn't lucky enough to have a class with Pickett junior year, I was in her Flex like I was most of high school, and oh the fun times we had in Flex. Flex is normally time to make up work or study if necessary, for me it was to print out pictures and torture my favorite teacher by plastering her face across her entire classroom. She always made a fuss and acted like she hated it but over two years later and she still has several pictures still hanging in her room. I also spent countless hours in Flex talking Pickett's' ear off and she would always listen whether it be about my weekend plans or that I had been having trouble sleeping. This year we came full circle when she taught me English 12, an early morning class meaning I missed my fair share of lessons. I cannot express how thoroughly sorry I am for not being in that class more. Ms. Pickett even though I didn't always enjoy your classes, I always loved spending time with you. I think you are what I am going to miss most about High School.
Having close relationships with your teachers is one of the things Gateway brings that is more difficult at a comprehensive High School. With a smaller amount of students, teachers have an easier time getting to know students more individually. Gateway is so small that last year I could say that I had been taught by every teacher in the building, and except for a couple of teachers new to the school this year, that statement remains true. I never felt like a stranger; even if I didn't know someone, I would by the end of the week. When a new student came around, it was a major topic of conversation, and most people did whatever they could to make them feel welcome. Last year when there was a new student that was exactly what I tried to do, make them feel welcome, and I somehow made a friendship that will last a lifetime.
As a student body, we didn't have the most traditional high school experience, but it was a great one nonetheless, and the staff at Gateway always did their best to give us opportunities for fun. We didn't get to go and sit in the bleachers and cheer our team to victory, but we got to go head-to-head with the teachers and staff in our own game of flag football. In Loo of Senior Sunrise, we had the joy of being jolted awake by morning team calls, a better wakeup call than caffeine could ever be. And you can't forget about the famous Gateway field trips, where once a month we got the opportunity to go somewhere amazing. We didn't have a prom, but we got to witness Gateway's first winter formal and see Ms. Stewart and Officer Snedden break it down on the dancefloor. There were also the famous end-of-year picnics, with so much fun in one day I cannot even begin to describe it.
Some of you may have only been here for a year or two, so Gateway was only part of your high school experience. For me, it was my high school experience, and it was an amazing one. I may not have been able to join the drama club or a sports team (not that I would have) but it was a worthwhile trade to feel safe in comfortable in my place of learning. Gateway not only made learning fun but they made it engaging, there was never a shortage of open class discussion or a variety of learning styles. Whenever I was struggling I didn't even have to ask for help, somehow my teachers just knew that they needed to explain the subject further, and the no homework part was also a great perk. Without Gateway I am not sure I would have been up here graduating today.
It is easy to fly under the radar at a comprehensive school but that is something that definitely will not happen at Gateway. When I was struggling to come to school, it wouldn't be long before Krone and Ms. Synder were coming to my house to drag me out of bed. Or when  I was having an off day my teachers would immediately notice and help me in any way I needed whether that be a trip to the mindfulness room or just a snack.
Ever since my first day all those years ago I have been forever grateful to Gateway and the safe haven it has become for so many people. So right now I want to say thank you to Gateway, and all the amazing people within it, I don't think I would have made it through high school without you.
This speech was delivered in front of all graduating seniors, their families and friends, and the staff at Gateway School/Crossroads Middle at the graduation ceremony that took place Wednesday, May 31, 2023, at the Carroll Community College Scott Center. Enjoy the gallery of photos below.