Gateway Staff Provide Thanksgiving to Families
N. Flagg, Newspaper Adviser
November 23, 2020
Gateway staff is stepping up more than ever to make sure that students and their families are taken care of and have delicious meals for the upcoming holiday.
Mr. Herman, Mrs. Krone, Mrs. Snyder, and their mutual friend and member of the community, Allison Blessing, used their connections to the community to organize a food drive for our students. They collected gift cards, went grocery shopping for essential items to be able to cook a Thanksgiving meal, and purchased food items like macaroni and cheese.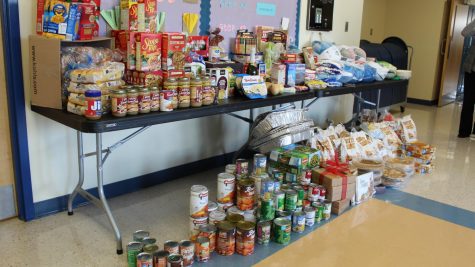 Mr. Herman commented, "The results of this food drive are a testament to the terrific school community that we have here at Gateway." Mr. Herman's family even went above and beyond by making a homecooked Thanksgiving meal for one of our families.
Once the items were delivered to Gateway, Ms. Snyder, Mrs. Krone, Abby Schaeffer, and JR Barnett organized all the food into boxes so they could be distributed to families today and tomorrow.