Way To Go Honor Roll Recipients!
The Honor Roll breakfast is a reward for any student who earned straight A's or A's and B's during a marking period. 
Many faculty members worked to organize and plan the event, each playing a critical role in the occasion's production. Even during breakfast, many people were helping.  
Many people attended the breakfast, including students, parents, and staff. Staff members, Mrs. Ricketts,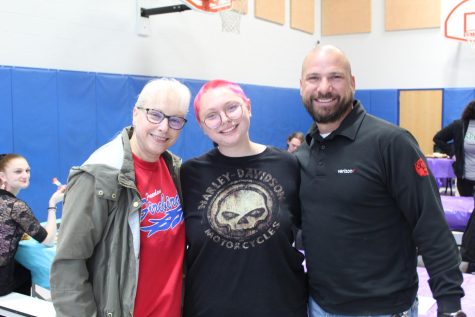 Mrs. Wright, and Mr. Wetzel, with the help of the SGA, were the main organizers of the event. Mrs. Ricketts oversaw the organization, including the food selection and planning. Mrs. Wright managed to identify and contact eligible students and parents. She also made the certificates that were handed out. All three worked together to carry out the plans for this special occasion.  
Breakfast transpired on Friday, April 28, 2023. Food and beverages were served first, then Mr. Wetzel presented the award. 
After the certificate ceremony, people ate and mingled. The entire event was delightful and cheery with smiles all around.  
Honor Roll Recipients for Marking Period 3
GATEWAY HONOR ROLL STUDENTS – MP3

Skyla Baker

Distinguished Honor Roll

Owen Battista

Standard Honor Roll

Angel Becker

Distinguished Honor Roll

Devin Black

Standard Honor Roll

Taylor Christian

Standard Honor Roll

Connor DiAngelo

Standard Honor Roll

Kaitlyn Downing

Standard Honor Roll

Austin Gardner

Standard Honor Roll

Stephanie Gibson

Distinguished Honor Roll

Asia Hall

Standard Honor Roll

Jazlyn Hill

Standard Honor Roll

Caitlynn Hudgins

Distinguished Honor Roll

Colby Huntington

Standard Honor Roll

Emily Kelly

Standard Honor Roll

Maylin Krieger

Standard Honor Roll

Madison Kwasny

Standard Honor Roll

Nadya Lozano-Gray

Standard Honor Roll

Nate McConnell

Distinguished Honor Roll

Megan Park

Standard Honor Roll

Lily Proffitt

Standard Honor Roll

Kaylin Rock

Straight A Honor Roll

Kylee Schubert

Straight A Honor Roll

Ben Slaterbeck

Straight A Honor Roll

Chase Swagger

Straight A Honor Roll

Ray Swidarski

Straight A Honor Roll

Caedon Vincent

Distinguished Honor Roll

Eiley Vincent

Distinguished Honor Roll

Declan Wilson

Standard Honor Roll

CROSSROADS HONOR ROLL STUDENTS – MP3

David DeMario

Honor Roll

Mason Miller

Straight A Honor Roll

Sydney Paulick

Honor Roll

Skyler Price

Honor Roll

Tristan Seymour

Honor Roll