A Celebration Like No Other for the Class of 2020
Beep, beep, BEEEEEEEEP! Kaaazooooo! Whoop, whoop!
Those were just some of the sounds that seniors heard as a boisterous caravan of Gateway/Crossroads staff approached their homes on Wednesday, May 27, which was the original date of Gateway graduation.
Even in a pandemic, Gateway staff delivered caps, gowns, banners, and plenty of hoopla and cheering to the seniors this year. Staff brought noisemakers, horns (car horns and other noise makers), banners, and even some treasures from the art department to help celebrate these amazing students, I mean, graduates. Some teachers who were unable to leave their homes were even included via FaceTime to join in the celebration.
Instructional Assistant, Cindy Shaw, had the idea to do a "parade" when a Facebook friend of hers posted about staff in a NY school district who drove to students' homes to deliver graduation signs. She proposed the idea to the administrators to see if we could do something similar. From there, she and guidance counselor, Christina Krone, worked diligently on a plan to make it work.
Ms. Shaw knew that students had been dealing with so many things since school had been cancelled and she wanted to make sure that students, especially the seniors who had so many traditions taken from them, knew that they are important to us. "We came together…to remind [students] that it really is "the little things" that bring joy and create memories," said Ms. Shaw.
Students were aware that they would be receiving their caps, gowns, and yard signs, but they did not know that so many staff members would be there too, honking and helping them celebrate this accomplishment.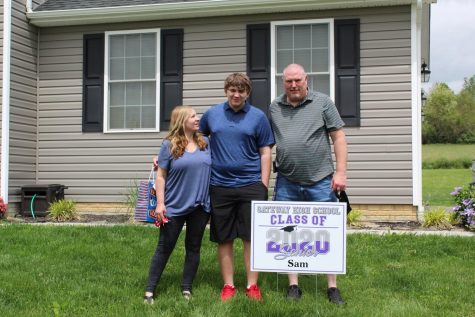 One of the teachers, Mrs. Murphy had this to say about the experience: "It was really special getting to visit graduating seniors and to see them with their parents. Parents looked so pleased as they were snapping pictures and beaming with pride! Even though some of the students looked a little embarrassed, we could tell that they appreciated the celebration of their special moment. A really sweet experience! Congratulations to all the graduates of the class of 2020!"
The school nurse, Jenn Koutsoheras, expressed how much staff really care about the students by saying, "I thought the senior sendoff was another wonderful example of how much we love and care for our students. They really are a very special bunch of people."
Mrs. Rumbaugh, an instructional assistant at Gateway and Honey Bun Hon (nickname coined by senior and staff reporter, Declan Browning) exclaimed that "The senior sendoff was an amazing effort by the Gateway/Crossroads staff to bring recognition to our seniors who worked through adversity in their schooling and have persevered…We are crazy proud of our successful seniors!!"
Science teacher, Ms. Carver, said, "In the midst of all the changes that had to happen at the end of their senior year, I hope they remember their sendoff and graduation fondly." In fact, Ms. Carver enjoyed this experience so much that she hopes it becomes one of the many traditions that Gateway/Crossroads staff provide for graduates for many years to come.
Although these are strange times, staff tried to make sure that graduates were honored for their achievement. The excitement and merriment brought to seniors on Wednesday by the staff mimics what students often hear staff doing in the halls of Gateway/Crossroads during special (and sometimes ordinary) occasions. As Ms. Carver says, "No one does crazy like Gateway!"